iPhone XS MAX aftermarket usually has three screen replacement options,$320 for Premium OLED replacement, $200 for Hard OLED replacement, and $150 for In-cell LCD replacement screen. If you need it fast then Apple can't always offer a quick turn around. most people choose to replace the screen at a local repair shop. iPhone XS MAX Hard OLED is cheaper than the original OLED, thinner than the In-cell LCD screen, lower consumption, and higher touch sensitivity. iPhone XS MAX Hard OLED replacement has become the best choice for consumers.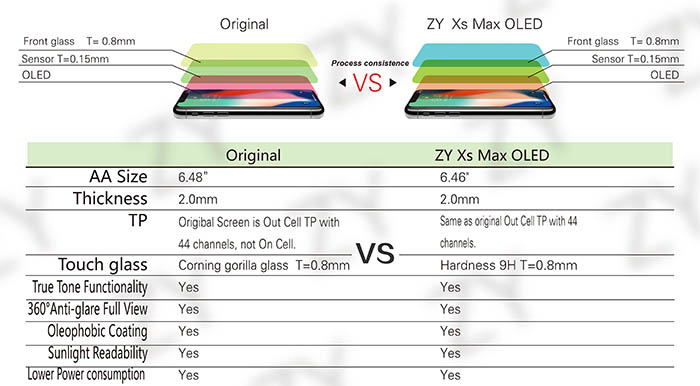 iPhone XS MAX Hard OLED VS Original OLED

size

Apple Xs MAX Hard OLED has 6.48 inches Widescreen, the original screen has 6.5 inches.
Thickness
Apple Xs MAX Hard OLED and original OLED screens are both 2.0mm thick.
TP
The original OLED uses an external TP, 44 channels. The difference between hard OLED and original OLED is that it does not use the On-Cell production process.
touch screen
The original OLED uses a Corning Gorilla Glass screen with a thickness of 0.8mm. The Hard OLED touch screen has a screen hardness of 9H and a thickness of 0.8mm.


In addition, rigid OLED as same as original true tone functionality, 360 ° anti-glare full view, oleophobic coating, and lower consumption.
Conclusion
Hard OLED screens are built using a hard glass substrate instead of the flexible substrate found on the iPhone XS MAX original screen. Two benefits of the switch from soft to hard are cheaper production cost and higher screen brightness. The reason we're seeing two versions of an iPhone XS MAX aftermarket OLED screen is that the cheaper hard substrate can be used instead of the original flexible substrate. Mobile phone repair shops and consumers prefer to use hard OLED to replace the damaged iPhone XS Max screen.