On April 15, 2020, Apple released the iPhone SE2, its first low-cost version of the iPhone. This model uses the iPhone 8 architecture in design and has been upgraded in the configuration. It is equipped with the Apple A13 CPU. Can the screens of the latest iPhone SE2 and iPhone 8 be interchangeable? The following introduces the solution for iPhone se2 LCD screen replacement.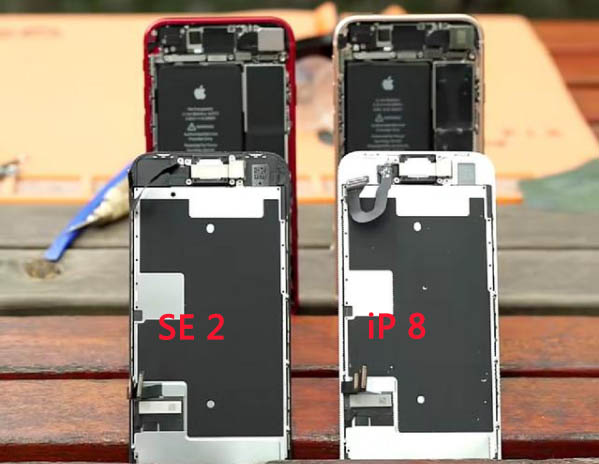 Disassembling the iPhone SE2 and iPhone 8 shows that the internal screw layout of the SE2 is very similar to the iPhone 8, the main difference is the CPU. We first install the iPhone 8 screen on the SE2, which fits perfectly. There is no problem with touch and display, and there is no 3D Touch function. Then install the SE2 screen on the iPhone 8, which can also be fully adapted. Therefore, we can draw a conclusion that the iPhone 8 screen can be used to replace the iPhone SE2 screen.
1.ZY in cell LCD
ZY in cell LCD is equipped with ESR high color gamut backlight and dual compensation polarizer. It adopts Sharp LTPS high-definition glass. The screen display does not change color, and the side view is not red and there is no etched pattern. The display effect is comparable to the original.
2.ZY COF LCD
ZY COF LCD is close to OEM display color and brightness, the cover and bracket are consistent with the original, and the screen and the original substrate are 1: 1 fit seamlessly. S / N and original color display can be repaired.
3. iPhone 8 original screen
The iPhone 8 original screen is priced at $ 149 and has 3D Touch functionality.
4. iPhone se2 original screen
The iPhone se2 original screen price is $ 129, which is lower than the iPhone 8 original screen.
According to the principle of iPhone SE2 and iPhone 8 screen interchange, ZY In cell LCD and ZY COF LCD can be used for iPhone SE2 screen replacement. iPhone 8 original screen and iPhone SE2 original screen can also be one of the screen replacement solutions.