In the iPhone replacement parts market, the iPhone 11 Pro has two types of assembled screens, Hard OLED and Soft OLED. Recently, ZY developed a new generation of Retina hard OLED for iPhone 11 Pro successfully. It uses original display panel materials, exacts to OEM display color and brightness, to achieve the Apple Retina display effect, supports 3D Touch, and re-writing True Tone display function. What is the difference between ZY iPhone 11 Pro Hard OLED and Soft OLED on the apple aftermarket?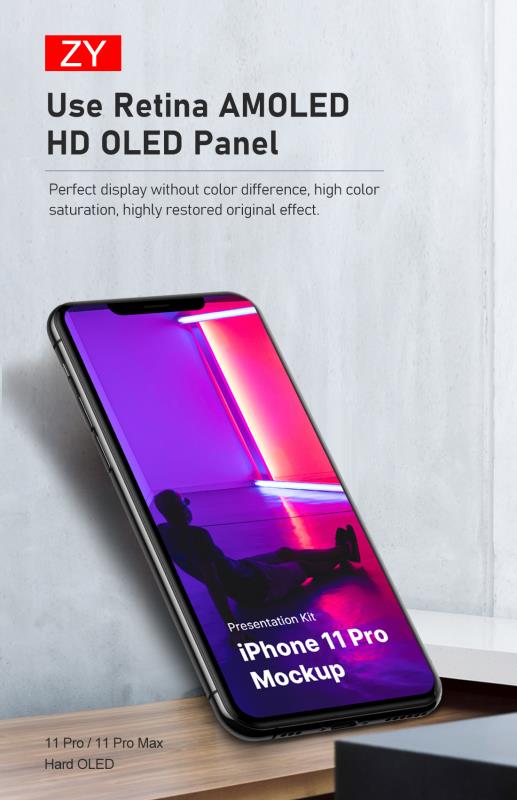 1. Using Retina AMOLED HD raw glass
Perfect display without color difference, no digitizer on the glass.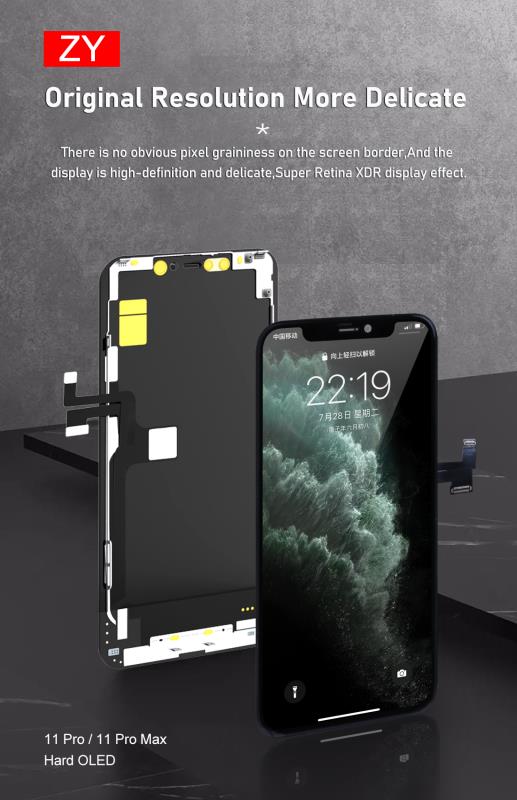 2. The same resolution as the original (1125*2436), the display is more delicate
The border of the ZY 11-Pro Hard OLED screen has no obvious pixel graininess, and the display is delicate. Other low-resolution (less than 1125*2436) screen interface font edges are blurry, which cannot achieve the Apple Retina display effect.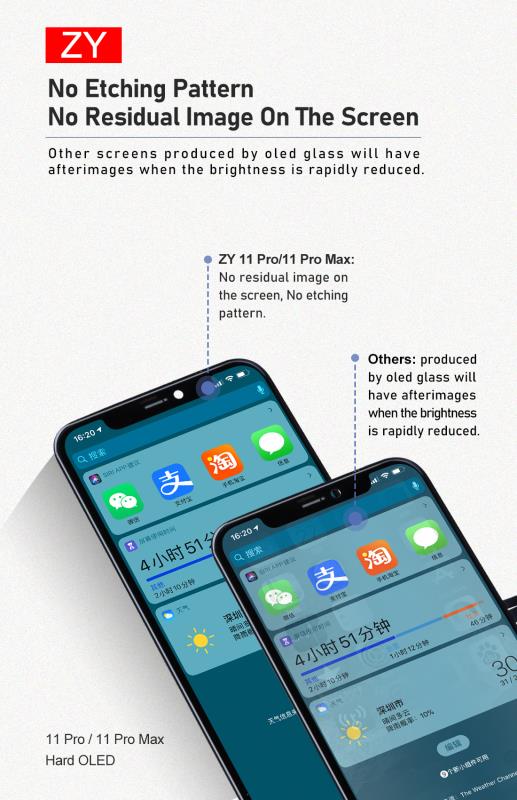 3. The screen has no shadow marks and etching patterns
Screens made of non-raw glass will show shadow marks when the brightness is rapidly reduced. When the screen is completely closed, ZY 11-Pro Hard OLED TP has no etched pattern and is completely black with the display frame.
4. Anti-drop design structure
ZY 11-Pro Hard OLED improves the glass edge-sealing process and enhances the glass's resistance to falling. The use of a toughened TP bracket improves the anti-fall performance of the screen and ensures that the screen is not fragile.
5. Full viewing angle display, side view does not change color
Under the polarizer test, 360° full viewing angle display. The screen does not change color when viewed from the side and does not glow red.
6. Screen temperature test
ZY 11-Pro Hard OLED adopts low-impedance structure design, with good heat dissipation performance and strong anti-interference ability.
7. Smooth touch and sensitive touch
Some of the Soft OLED screens on Apple's aftermarket are deformed, the thickness of the bottom of the screen increases and the touch is not smooth.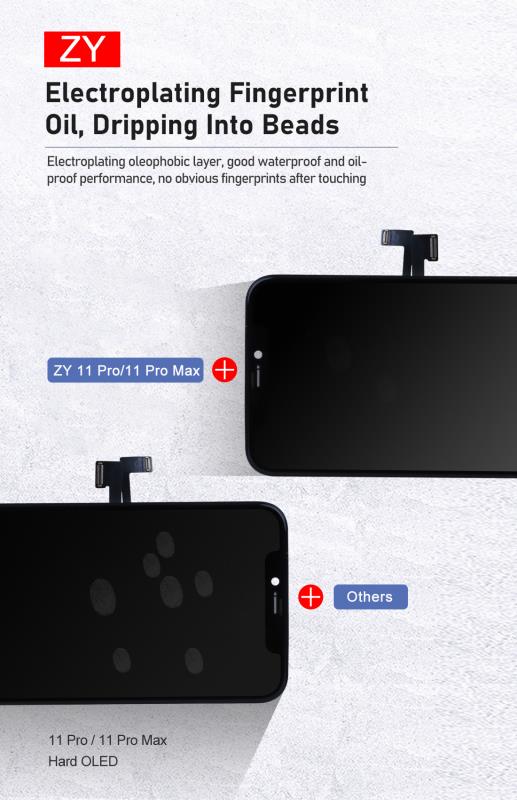 8.Electroplating oleophobic layer and dripping into beads
Electroplated oleophobic layer, good water, and oil resistance, no obvious fingerprints after touching.