The appearance and structure of the ZY XR COF LCD are consistent with the original iPhone XR screen assembly, and the display effect and function are the same as the original. The stability quality is consistent with the original. Recently, the in-cell iPhone XR screen assembly has appeared in the iPhone screen replacement market. What are the differences between the in-cell LCD and COF LCD screen?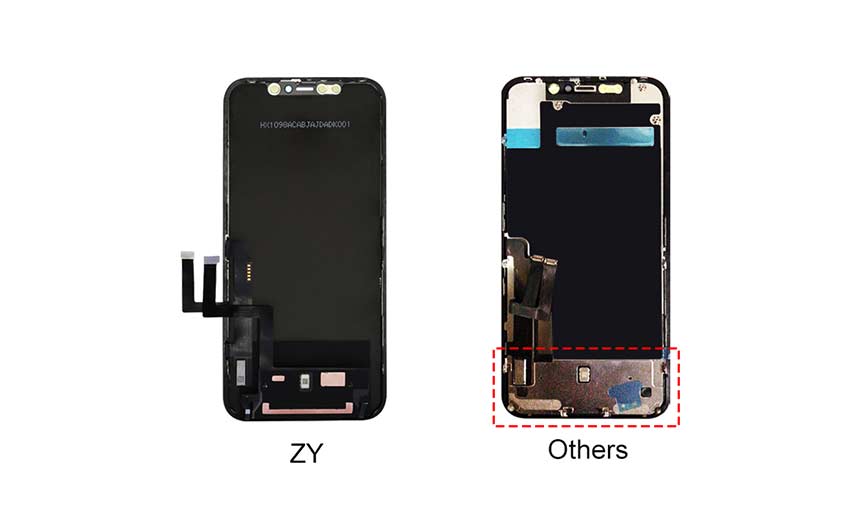 Production Process:
COF: TP and LCD screen are separate;
In cell: IN CELL process, non-original process;


Screen appearance:


1. The TP cable and the LCD cable are made into an integrated cable. The TP cable has no actual function and has a decorative effect.
2. Since there are many liquid crystal cable components in the IN CELL process, the extra cable components can only be placed outside the originally designed component area.


Performance comparison:


First, the In-Cell XR screen assembly will be stressed during replacing the screen, which will cause errors in the structure of the iPhone XR and will hurt the backlight.


Second, the extra components in the In-Cell XR are placed outside the non-original design area-the picture of the extra positions of the components.


1, it will produce iPhone signal noise interference and TP error touch.


2. Exposed components will display abnormally, not display, black screen and other problems.


Third, the In-Cell XR plug-in chip will cause excessive power consumption of the screen, serious cell phone fever, and cell phone battery is not durable.